Based right here in the South Houston area (Sugar Land), The Faris Foundation is a non-profit organization with a mission to bring brighter days and better treatments to children with cancer. And unlike any other organization we've ever seen, The Foundation is led by a Chief Angel Officer, Faris D. Virani – a sweet nine year-old boy whose own words form the "heartprint" that guides the Foundation's work.
We previously posted about our experience sending a Faris Foundation Brighter Days Care Package to our Tinkergarten friend who was recently diagnosed with leukemia. In addition to their Brighter Days Care Packages, The Faris Foundation also works in the following areas:
Childhood Cancer Research

Creative Arts Programs serving children with cancer and their families

Public Awareness around childhood cancer
If you are looking to get more involved in the community, consider sharing your time and talent with The Faris Foundation! We spoke to our friends at The Faris Foundation to find out more about their Creative Arts Programs and learned how you can be a part of the magic and make a difference in the lives of children with cancer.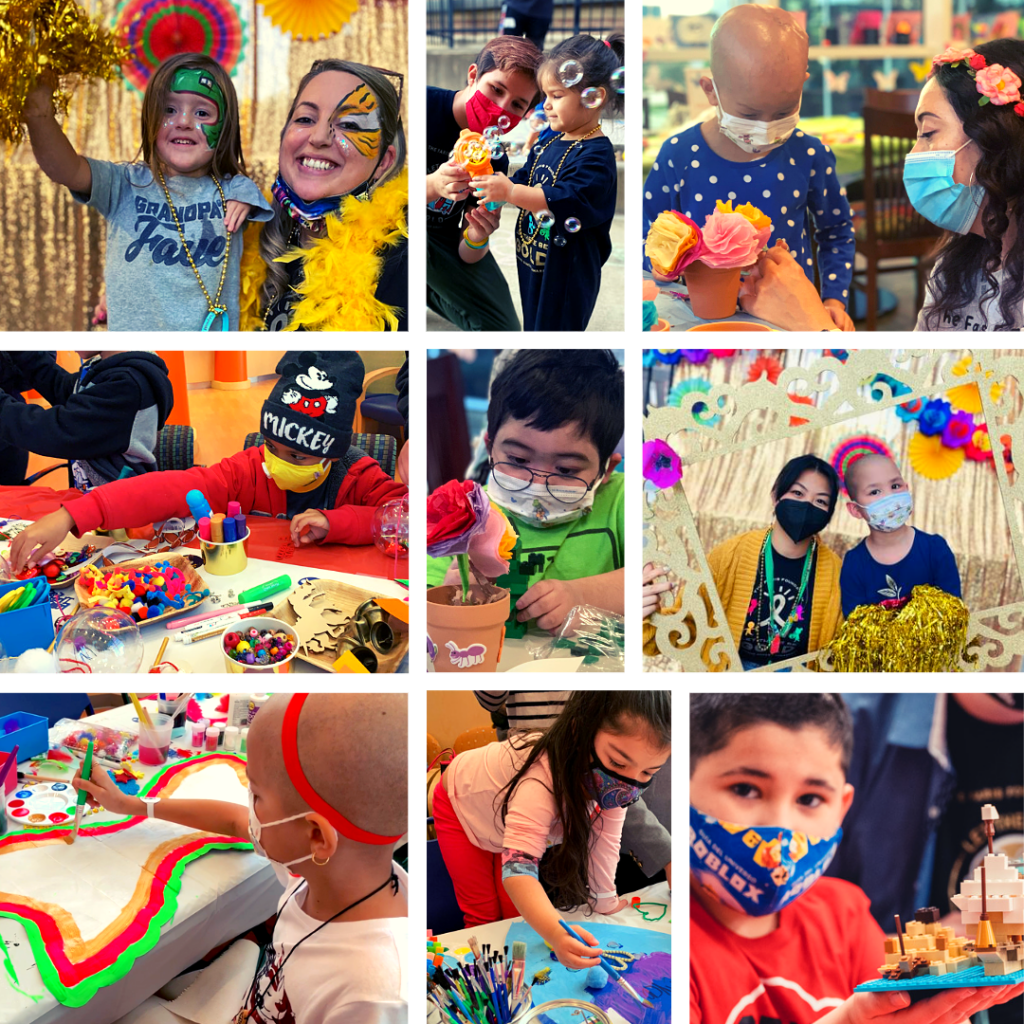 Art Is My Life
When Faris was just four years old, he said "Art is my life." Faris' family witnessed the healing power of art throughout his cancer journey – when he didn't have the words, it was art that allowed him to process his experience, express himself, and connect with others. Faris' experience is corroborated by an extensive body of research demonstrating the healing power of the arts. And yet, the arts are rarely fully integrated into the treatment plan for children with cancer.
A Dose of Medicine, A Dose of Art
At The Faris Foundation, we believe that every child diagnosed with cancer should have access to art as a part of their plan of care. To that end, we embed art and music therapists at hospitals and other sites; we host art parties; and we facilitate community collaborations.
The Faris Foundation has established the first-ever Art Therapy program at Texas Children's Cancer Center (the largest pediatric cancer center in the country), Music Therapy at MD Anderson Children's Cancer Hospital, a first-of-its-kind Creative Arts Program at Ronald McDonald House Houston, and a Creative Art Therapy Fellowship at Mount Sinai Kravis Children's Hospital in New York City.
All Hearts on Deck!
This year, we have been able to resume our volunteer-led, in-person Art Parties at Ronald McDonald House Houston, and we are always grateful to have new volunteers join us! Our Art Parties have various art-making stations, sweet treats, and a caregiver's corner. Here's what you might do as an Art Party volunteer:
Help kids and caregivers create unique works of art at an art-making station

Chat with caregivers, giving them the chance to take a break and enjoy casual conversation

Serve dinner and/or sweet treats to families

Dance, play games, and have fun! It's a party, after all!

If you have a special skill that you would like to share, let us know! For example, we have previously had face painters and massage therapists offer their skills.
Our next party at Ronald McDonald House is a Noon Year's Eve celebration on December 31, 2022 from 11:30 am – 1:30 pm. If you would like to sign up as a volunteer or learn more, please contact Carrie Hassall at [email protected].
Volunteers must be 18+, fully vaccinated against COVID-19, and masked.
Visit TheFarisFoundation.org to learn more!