I've been going to the Grand Teton and Yellowstone area my whole life (too many trips to count) and we are about to embark on our first RV trip to the parks! This will be my 2nd trip with my kids and our first time camping (in a nice RV). I've compiled a few of my favorite things to do as a family below! Enjoy!
Family activities in Grand Teton

Go hiking on the many beautiful trails. Here are our favorite kid friendly trails:
      1.  Lakeshore Trail (2 miles)- This trail is behind Colter Bay Visitor Center. It goes along the water so it's great for collecting sticks and rocks.

      2.  Leigh Lake (2 miles round trip)- This trail follows along String Lake and offers great views of the Tetons. Turn around anytime so that you keep your hike short and sweet for the kiddos.
      3.  Moose Ponds (2.5 miles round trip)- This trail follows along Jenny Lake. It's very common to see moose feeding and sleeping on this hike!

Ride the Ferry across Jenny Lake
The ferry only takes about 15 minutes to get across the lake. Then you can hike to Hidden Falls which is a 1 mile round trip! The waterfall is so beautiful!
Tickets can be purchased at the dock, no reservations required.
Splash in the Water
There are lots of beautiful lakes and rivers in Grand Teton so pick your favorite and take a dip.
There is a beach area at the head of Lakeshore trail which is great for families. You can aso rent canoes, paddle boards and kayaks at many of the lakefront visitor centers and lodges.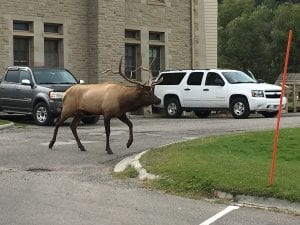 Animal Watching
Grand Teton National Park is one of the best places to view wildlife! The best times are dawn and dusk. Ask a ranger where the best places to view wildlife are, they may have knowledge on current sightings! Since the park has been closed a few extra months due to winter closings and Covid closings, the wildlife are out in full force!
Always keep a safe and respectful distance  from all the wildlife.

Take a Drive
Driving around on the many scenic roads is one of our favorite things to do! Here are some of our favorite drives in the park.
Oxbow Bend Dirt Road

– This is near Jackson Lake and is also called Oxbow Bend. It's only 1 mile but you can often spot Bald Eagles, Elk, otters and waterfowl. 

Schwacher Road-

This is also only 1 mile. You can park and walk a short trail and see some of the most amazing views of the Tetons.

Antelope Flat/Mormon Row

– This is a great road to spot elk, antelope, and bison. 

Signal Peak

– This road climbs up the peak of Signal Mountain. You can see for miles around and is definitely worth the drive!

Go Biking
There are lots of paved trails in the park, great for families!
Attend a Ranger Lead Program and Become a Junior Ranger
These activities are temporarily closed due to Covid. When things return to normal, check out schedules at any visitor enter for Ranger lead activities, they occur all throughout the day and evening.
Older children can also participate in the Junior Ranger Program. You can pick up booklets and information at any Ranger station and the program is free. 
Camping & RVing
There are many locations in the park to camp with a tent or RV. Some sites require a reservation and you may need to make one up to a year in advance. Others like Signal Mountain and Gros Ventre are first come first serve and the maximum number of nights allowed is 14. 

Visit Jackson Hole!
Visiting Jackson Hole is a must! During the summer, Jackson Hole has a farmers market every Saturday from 8-Noon. There are lots of shops and restaurants and you might even spot an elk roaming through town!
Family Activities in Yellowstone
Old Faithful

Old Faithful is probably the most well known attraction at Yellowstone. This famous geyser erupts almost every 78 minutes. You can view it along the generous wooden walkways and decks or form the iconic Yellowstone Lodge. There is also a great visitor center and shopping in the Old Faithful Lodge area. The lodge and most restaurants are closed due to Covid. 
Upper Geyser Basin
After visiting Old Faithful, head to Upper Geyser Basin, which has the most thermal features in one concentrated area in the world. You can walk a paved trail between Old Faithful and Upper Geyser Basin which is 2.8 miles. 

Grand Prismatic Hot Spring- Midway Geyser Basin
This is the largest hot spring in America and the 3rd largest in the world. The geysers and pools around this area are vibrant colors of orange, yellow and turquoise due to the heat loving bacteria that live in them. 
Boiling River & Firehole River Swimming Areas
There are two safe areas to swim in the park. These waters are created by hot springs and the temperature is great for relaxing for the entire family. Watch for cars parked on the side of the road. The waters are shallow enough for little kids but bring water shoes to protect your feet from the rocks. 

Mud Volcano
The mud volcanoes are very entertaining for kids but the sulphur smell (like rotten eggs) might scare the grownups back in the car!
Uncle Tom's Trail & Artists Point, Canyon Village
If you want the best views of the Grand Canyon of the Yellowstone, this is the place to be! Experience being inside the canyon walls on Uncle Tom's Trail very close by. These trails are great for hiking and stopping for a relaxing picnic. These trails aren't recommended for parents carrying a baby or contrary toddler as there are 300 steps up to some of the viewing points.
Mammoth Hot Springs
This is where the park headquarters is located. It has great shopping and eateries and you can even spot elk and bison roaming around. There are great kid-friendly trails but bring a hat and sun protection as there isn't much shade in this area.

Go Fishing!
Yellowstone is known for its fishing, particularly fly fishing. The Gallatin River scenic stretch is a great place to fish and there are plenty of guides and equipment rentals in the area.
Horseback Riding
Horseback riding is very popular in Yellowstone! You can sign up for a 1 or 2 hours guided ride in many locations in the park (minimum age is 8). Amanda went for a horseback ride many years ago and her group saw a bear and elk! You can also book a ride that includes a wagon cookout!
Boating
Yellowstone lake is a great place to go for a boat ride, rent kayaks and canoes. You can also go on a one-hour narrated cruise on the Lake Queen. You can find all these boats and rental information at Bridge Bay Marina. 
Amanda, her husband Steven and their two children Carter & Harper, along with Amanda's parents are driving to Wyoming in a RV. Follow along as she documents their journey on our Facebook & Instagram.