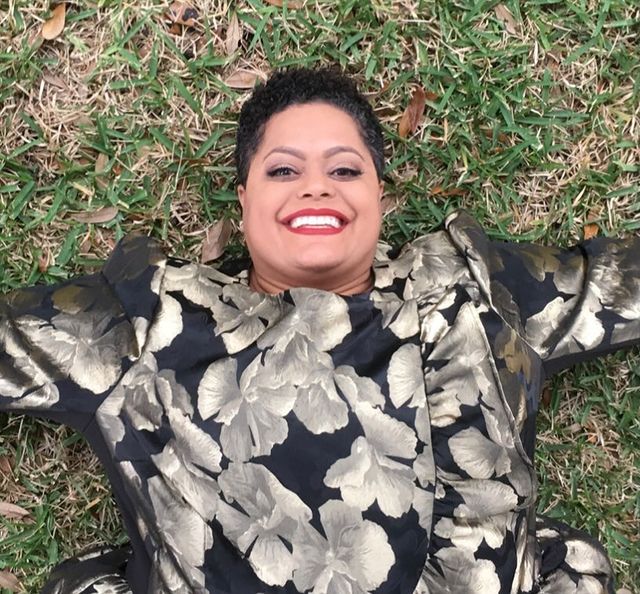 This weeks Meet a Mom interview is with Alana Higginbotham of Rosharon! Alana is not only an author and podcast host, but also a Certified Life Coach and professional speaker recently featured on the Today Show with Hoda & Jenna! We asked Alana to share a bit about her business, podcast and how she navigates motherhood. We think you'll find her advice as motivating and inspiring as we did!
If you could describe yourself in one word, what would it be and why?
Resilient! I am the come back stronger and better than ever QUEEN!!
How many children do you have and what are their ages?
I have two very handsome sons, Drew and Dean, who are 18 and 13, respectively.
How long have you lived in Rosharon? What made you decide to live there?
I've lived in Rosharon for 20 years. When I moved to Texas from Louisiana in 2000 my hubby and I wanted a cozy down home feel similar to what we grew up with in Lake Charles. Rosharon had some great new home opportunities and that's where we began to build our sweet family.
What's one thing people would be surprised to know about you?
I think it would come as a surprise to many that I don't prefer to talk on the phone much. I do have a desire to change that but at the moment texting me is your best option. Lol
Anyone special you'd like to thank for helping you through parenthood?
My husband of course and a laundry list of bloggers, vloggers, YouTubers and Instagrammers are who I owe my very life to. Parenting has presented me with some tough and even dark moments that I recall not always knowing I could make it through. Finding help and a common ground with other women all over the globe pulled me out of some tough spots mentally. I am super grateful for the internet in that right.
What do you do for self care?
There are many things I do to care for myself. A lot of which involve adhering to boundaries that I set, avoiding the types of energy that trigger me until I can overcome those triggers, removing myself or limiting exposure to people places and things that take from me in deeply depleting ways. I do this along with other treats like spa days and time for myself etc.
Are you involved in a business venture, a local organization, a creative endeavor, or in the corporate world?
I am actually, The Mental Strategist. A mindset and mental wellness coach whose work guides people in building their powerful fulfilled life. I have taken my life and the tools I had to create to overcome and put them into a platform that teaches, serves, shines light and offers love. In a world where it has become so much more acceptable to talk about how you feel and what's going on in your head, my work and I fit in PERFECTLY! I offer a real world, unfiltered, I-Have-Been-Right-Where-You-Are approach to healing, growing and building anew.
Tell us more about your podcast Enjoying Life with Alana Higginbotham and what it's like to manage one.
Managing a podcast for me has been like managing everything else in my life. I first take the excitement and start with guns blazing only to realize that progress fueled by excitement with no plan and consistency wains and fizzles as quickly as it starts. I had to make a shift to building instead of achieving.
The goal was to start a podcast and I achieved that but shifting my mind to building a lasting resource that is consistent and steadfast has made all the difference. Now I have a set day of the week to record the podcast as well as the social media post to introduce it, a set day to edit both of those and a day that it airs. (Every Friday morning) It feels so much easier and leaves so much room for my creating to flourish.
What is your best advice for juggling motherhood and working?
GRACE!! And lots of it for yourself mostly and also for others is the biggest requirement. Don't go if it feels like too much. Do go if you need the social interaction. Do enjoy more of what you enjoy.
SAY "NO" MORE!!! No to what feels like a chore and no to the living up to others expectations. You were never meant to be everything to everyone and then a mean-mouthed bully to yourself. No matter what Pinterest says, YOU CHOOSE YOUR PATH & YOUR PROCESS!
What would you tell the "old you" before you had kids?
Even you will find it difficult to maintain self but work like hell to do it anyway.
Funniest shortcut or routine for helping you through parenthood.
My fav parenting hack is that instead of teaching my boys to "respect your elders" or "respect your teachers" I taught them to have a healthy amount of respect for themselves. That way no matter what situation they are in they will conduct themselves RESPECTFULLY even if the person, place or thing does not seem to be deserving of respect.
We love to support local businesses. What is your favorite place in the Rosharon and surrounding areas to:
Go to dinner with your kids: Steak & Shake
Go for girls night: Guard & Grace, Painting With A Twist
Have a date night: Davidoff of Geneva Cigar Lounge, Emit Cigars, Wooster's, Steak 48, Kenny & Ziggy's, Beer Garden
Get your nails done: Fashio Nails Pearland
Get a facial or spa treatment: Trellis Day Spa Houston
Shop for yourself: Online
Shop for your kids: Pearland & Sugar Land Town Centers