Meet Josephine Granger (Josie to many of us), a Pearlander and local business owner in the city of Houston. She and her husband Ryan have been restaurant owners for 15 years with 3 successful and delicious restaurants! Go immediately and try the fish tacos at Bodegas, they are the best! Read about her family and their experience with business closures and how its affected her family and their employees and how we can help support them below.
How many children do you have and what are their ages?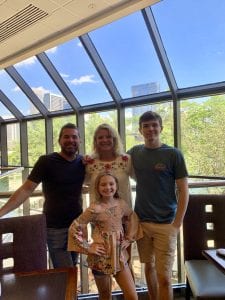 I have 2 children, Nikolas is 21 and is finishing UT this year, Sofia is 11 and is in 5th grade.
How long have you been married? I have been married to Ryan 11 years.
How long have you lived in Pearland? What made you decide to live here?
We have lived here 9 years, it's a great family friendly area and close to the restaurants.
What's your favorite family activity Pearland?
Going for a bike ride or walks around the area.
Where's your favorite place to eat and/or shop in your Pearland?
We like going to the Pearland Town Center to browse the stores.
What's one thing people would be surprised to know about you?
That I am half Mexican and I speak Spanish, although I grew up in Finland.
Anyone special you'd like to thank for helping you through parenthood?
Since I don't have my own family here my friends have been instrumental in helping me with parenting.
How has the Pearland community been instrumental in getting you where you are now?
We have a wonderful network of friends and neighbors that are looking out for us and especially now during the virus they are making a point of supporting the restaurants.
Where do you go locally for pampering or a Moms night out?
We like to go and eat at Italianos.
Please share with us how you juggle working full time, and being a mom and wife?
Everything is balance, I will go to work after my daughter goes to school and my husband will pick her up and I can stay at work later.

Please tell us about all your restaurants:
All three restaurants are located right in the middle of the  Museum District. Ryan started Park-Grill 15 years ago.  It's a deli with an extensive catering menu. We opened Bodegas Taco Shop 11years ago. It's casual Tex-Mex, the food is fresh and delicious (we couldn't agree more! ;). We have received two awards from Houston Press for having the best Margaritas in Houston. About 8 months ago we opened Fia's Pizzeria, named after our daughter Sofia. It's a build your own pizza concept and we also have pastas and wings. We have a beer and wine license so you can pick up a pizza and beer/wine to go.
What made you want to open a restaurant?

My degree is in Restaurant and Hotel Management and after meeting Ryan, we thought it would be a great idea.
How have the business closures from Coronavirus affected your restaurants?
It has been rough, especially for our employees. With the decrease in business we have had to temporarily lay off some employees. We are working with a marketing company to drum up more catering and to go business. We have had to negotiate payment deferments for many of our bills and also been forced to apply for loans.
How can we support you and your restaurants during this time? Which ones are open?

All three restaurants are open for to-go and deliveries. For deliveries we ask that we have a 8-10 people minimum, or what many of our friends have done is made a multi-family order to a certain area. We also use Doordash.
You can check out Josie and Ryan's restaurants below.
Call your friends & neighbors and make a group order today!

713-528-6102
1200 Binz #16
Houston, TX 77004
BodegasTacoShop.com

713-333-8222
1200 Binz #130
Houston, TX 77004
FiasPizzeria.com

713-529-1443
1213 Hermann Dr. #150
Houston, TX 77004
Park-Grill.com